Boy and Bear concert cancelled after bear mauls boy
Fans of Australian indie group Boy and Bear were left devastated this week after the band's management were forced to announce the cancellation of the group's latest national tour. Sources have indicated the move was taken in response to an incident at this year's Falls Festival where a young boy's spleen was reported missing following…
Fans of Australian indie group Boy and Bear were left devastated this week after the band's management were forced to announce the cancellation of the group's latest national tour. Sources have indicated the move was taken in response to an incident at this year's Falls Festival where a young boy's spleen was reported missing following an altercation with the band's lead guitarist, a 12-foot North American grizzly bear.
Citing similar safety concerns, the support act for the 'Wolf and Cub' tour had previously called off a number of performances during periods of heightened lunar visibility, with friends Vampire Weekend stepping in to fill these gaps. The cancellation of the tour will come as a major relief to the support act, given reports that the two groups were constantly at each others' throats, following a mixup wherein Boy and Bear inadvertently consumed a zebra carcass stored in Wolf and Cub's ice box.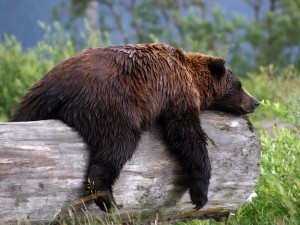 The cancellation of performances due to problems arising from anthropomorphism is not an uncommon event in the music industry, with rap legend Snoop Lion similarly having to cancel a recent charity performance after an abnormally large number of people in safari-suits turned up to his show. Wolfmother also faced a significant backlash from fans, following revelations that not a single member of the band had ever actually given birth to a wolf.
With insurance premiums now expected to rise significantly for all future animal-themed indie bands, only time will tell whether the now infamous grizzly bear and his self-titled side project will be forced to return to his niche performances as a panda impersonator at cheap zoos. One thing that is for certain though, is that a name change for the band is in order, with fan suggestion 'Bear and Carcass' being the most popular option so far.