Justice for Youth: Original Poetry by Dylan Voller
Exclusive: Dylan Voller is 19. He sent these poems from Darwin Correctional Centre about his experience in Don Dale Detention. Additional writing by Zak Grieve.
In recognition of January 26, Honi is dedicating its platform this week to prioritising the voices of Indigenous people. Find out more here.
In 2016, Dylan Voller appeared in Four Corner's episode 'Australia's Shame', which exposed the mistreatment of Indigenous young offenders in Don Dale Detention Centre. For the first time ever, here is his poetry. 
---
JUSTICE FOR YOUTH
By Dylan Voller
When I close my eyes I feel the hits to my head. But don't get me started on all the abuse and torment.
I was only eleven years I didn't know If It was Right or Wrong. But what I know now is theese Assaults went on for way to Long.
Sitting in that chair with a hood over my head. For the whole two and a half hours I was Just wishing I was Dead.
I remember that time [name removed] told me to kill myself. I thought about it for days If only you could feel the pain I felt.
I'm not gonna lie theres been times I have cried. And thought to myself am I gonna die in side.
I have a lot of questions I really want answered. Like why wern't my first cry's out for help ever answered.
Does [name removed] Really not care. Or is [they] telling the truth and [they] didn't know what was going on in there.
Why can't [name removed] Admit [they] was wrong. Instead of pointing fingers and passing the Blame Along.
The End
I would like to dedicate this poem to [censored] all the other Juveniles that were subject to this sort of treatment.
And If the People who did this to me see's this I want you to know that I will never be able to forget it happened because it is stuck in my head. But I have found room in my heart to forgive you as I have also made mistakes and I hope one day I can also be forgiven for my mistakes.
Thank you
Dylan James Dudley Voller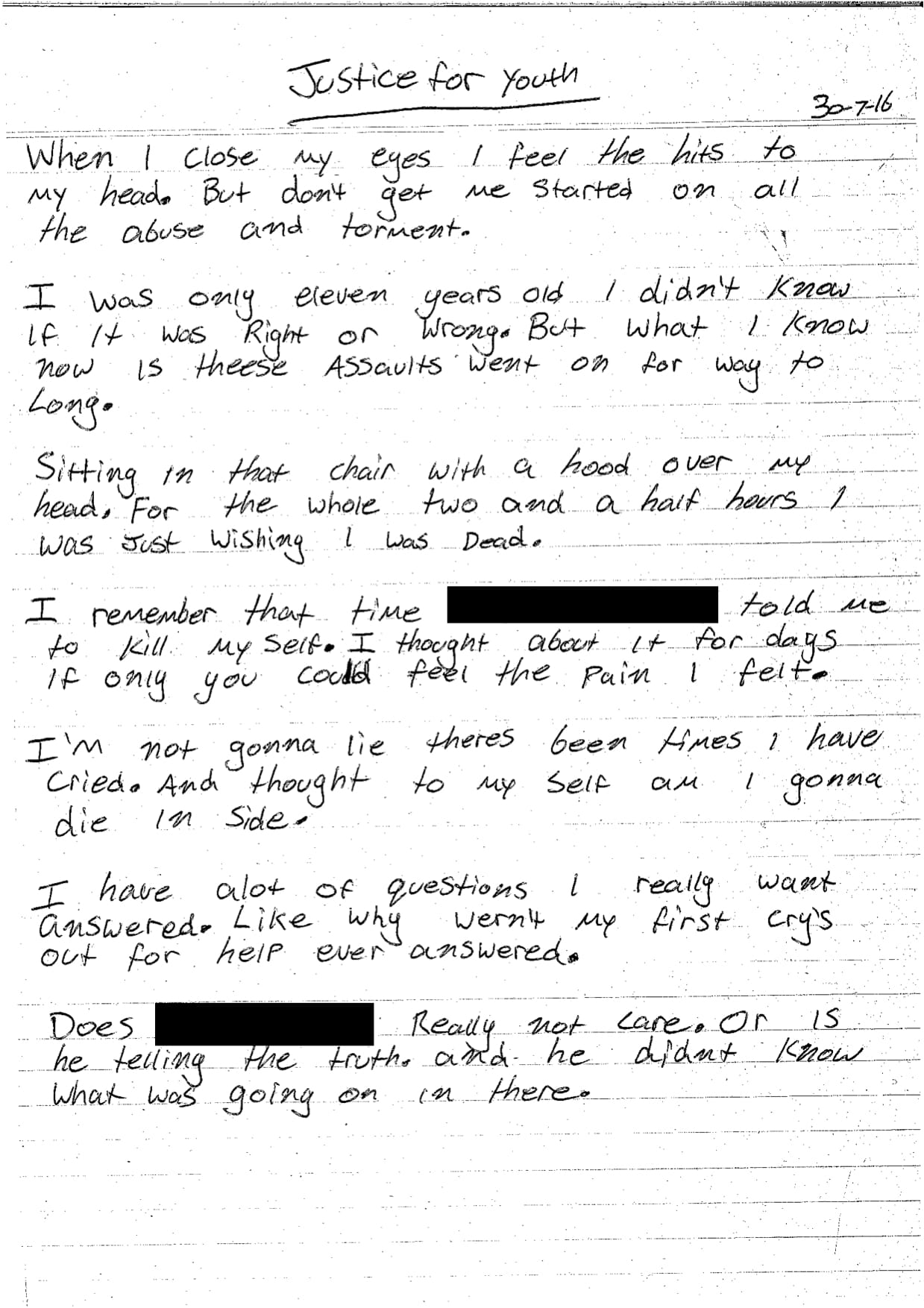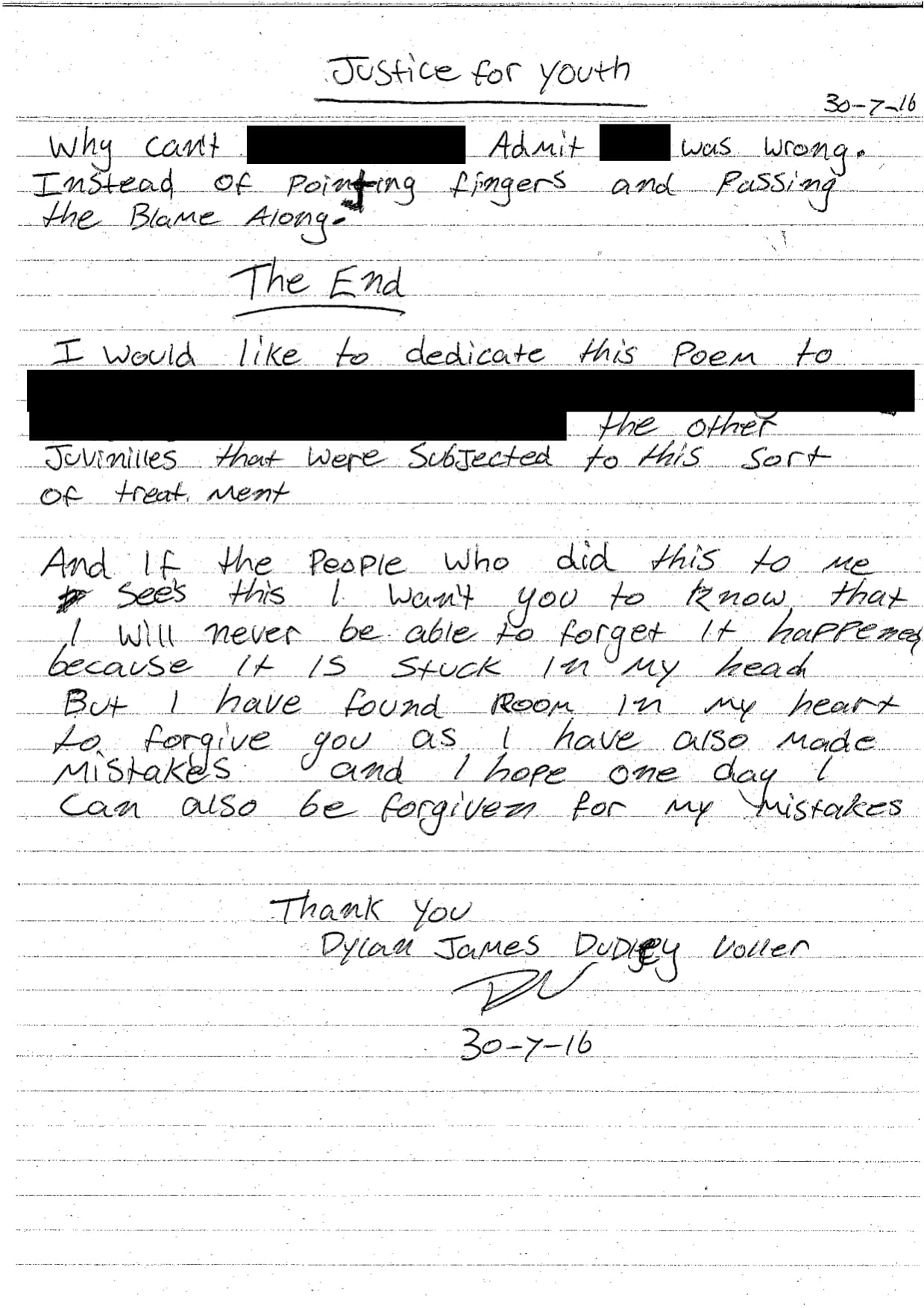 ---
TRUE JUSTICE (RAP)
By Dylan Voller
I've seen it all in Dondale Detention
But the story I'm telling is beyond comprehension
You never did anything until it made the news
So for the last 8 years I've suffered long lasting abuse
In 2010 I was choked with force
And to this day the screws have no remorse
At 16 the screws told me to kill myself
I thought about it for days, no pain like I've ever felt
Strapped to a chair with a bag on my head
If this went on any longer then I thought I'd be dead
Verse 2                        Bridge x2
A typical guard is someone that's hard
All these young kids need is someone with a heart
Someone to talk to when times are getting hard
It was hard to find this in the Dondale guards
I'm not a bad kid, I just had a bad past
Trying to fit in so I stole a couple cars
I got stuck in routine, I became instittuionalise
But it's far worse in jail, I'm always being brutalised
Verse 3                        Bridge x 2
What the government was doing is wrong
And us brothers took a stand, now it's time to be strong
Thanks to the journo's at the ABC
You put the footage out there for the world to see
Now it's me that people have to believe
When the [blanked] Government tried so hard to deceive
Gunner stepped up and made Giles do a runner
Hoping for some justice from this political newcomer
Bridge
Justice, Justice is what we ask for x 2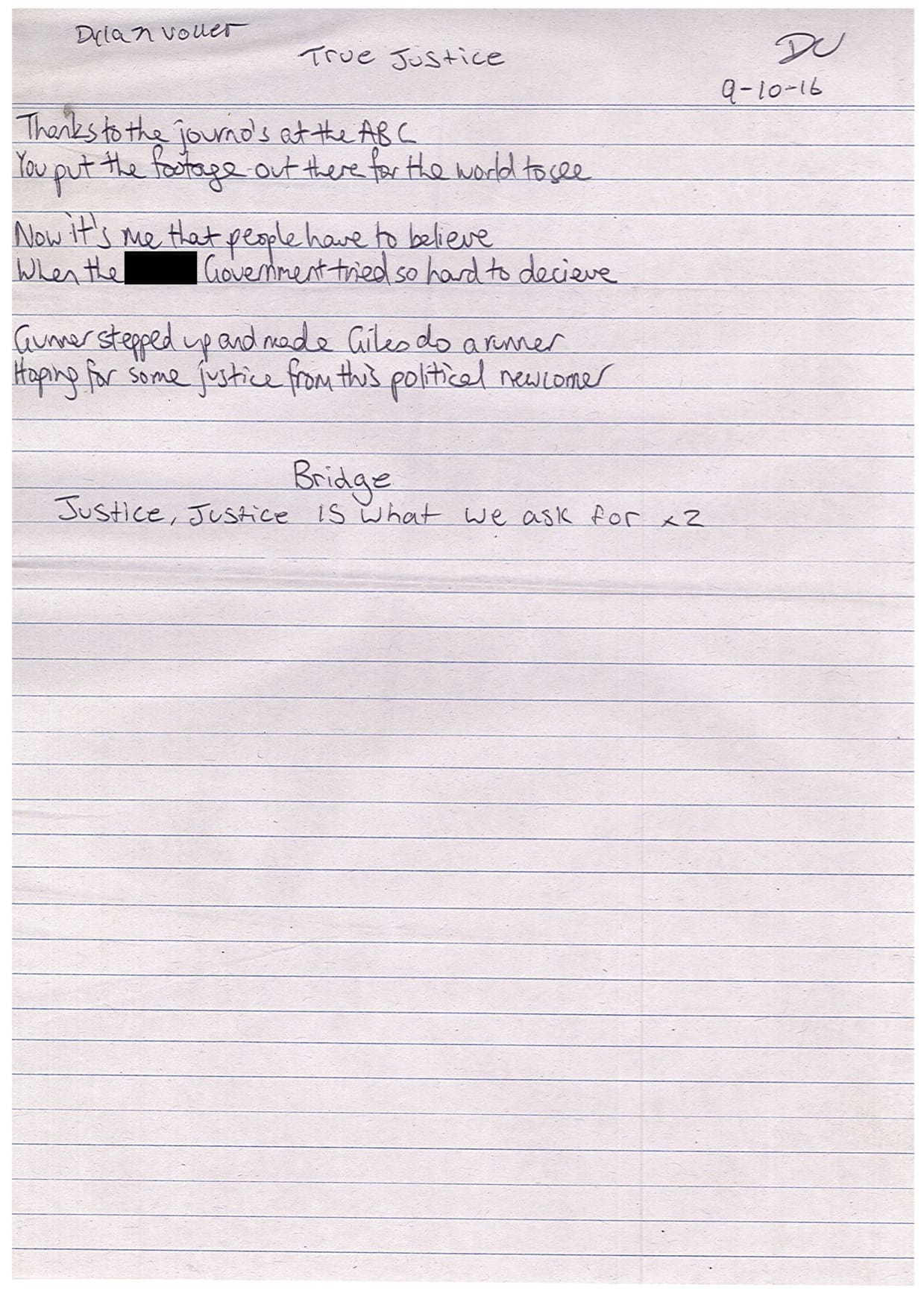 ---
UNTITLED POEM
By Dylan Voller and Zak Grieve
Dedicated to all the people and families who have been through the system and gone through the struggles, and who have been put down. Stay strong.
Zak:
Judge like the cover of a book
The whole world thinks they know all they should.
The public's addicted to the problem
Overlooking, if it's not seen there's no problem
Mushrooms fed bullshit, kept in the dark not allowed to live or understand the world we live in,
Try to fight for our rights,
only to be cut at the knees and lose the ability to transgress this reality
You're reminded that you're at the bottom of the food chain,
You're the fish in the barrel, welcome to the broken reality that doesn't bother to correct the truth is perception,
The lie is perceived with the system recidivism is inevitable
Dylan:
Here I am thinking out aloud,
About all the times I've had to scream out for help,
Only to be told that I'm worthless,
If corrections had their way I would be helpless,
This poem is to the people who stuck by me,
And supported me while others vilified me,
I would like to remind the public
Of the lives that never survived the whole justice system
I wish to send me love and say goodbye Wayne 'Fella' Morrison
Because the justice system took his life
When I seen his story on the news, I couldn't help but cry
It reminded me of the things I've been subjected to most of my life
And how lucky I am to have survived knowing I'll win this fight
For us who feel we've lost our human rights
---
Note from the Editors: Honi Soit would like to thank Dylan Voller and Zak Grieve for allowing us to publish their works. 
Today, of all days, we must remember the ongoing and disproportionate incarceration of Indigenous children across Australia.